Jalapeno Hummus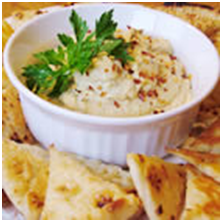 A spicy hummus to liven up the appetizer table.
Categories:
Ingredients
1 cup garbanzo beans
1/3 cup canned jalapeno pepper slices,
juice reserved
3 tablespoons tahini
3 cloves garlic, minced
2 tablespoons lemon juice
1/2 teaspoon ground cumin
1/2 teaspoon curry powder
crushed red pepper to taste
Directions
1. In a blender or food processor, mix the garbanzo beans, jalapeno peppers and reserved juice, tahini, garlic, and lemon juice. Season with cumin, curry powder, and crushed red pepper. Blend until smooth.
Nutritional Information
Servings Per Recipe: 8 ,Amount Per Serving :,Calories: 75 , :, Total Fat:0.124 oz , Cholesterol:0 grain , Sodium:0.104 grain , Total Carbs:0.321 oz , Dietary Fiber:0.074 oz , Protein:0.092 oz ,:,